FireProof Precast Lightweight Concrete/AAC Cement Panel For Partition Wall
Product Composition

Surface : fiber cement board
Interior filling materials: EPS / cement / fly ash / sand / additive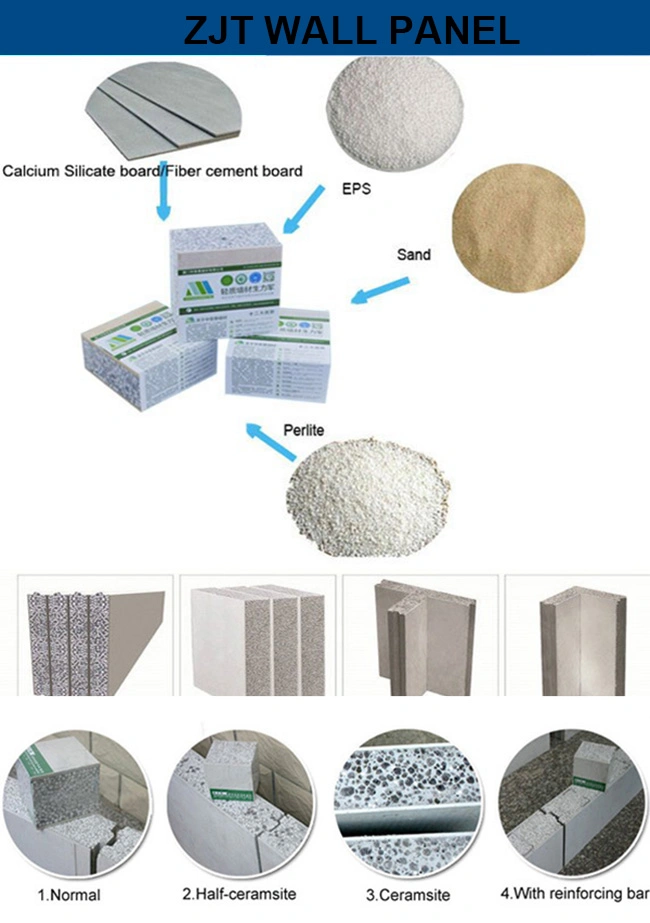 ZJT EPS Sandwich Panel
ZJT Light Composite Energy-saving Sandwich Wall Panel is composed of face panel and interior filling. The quality and technology of product have reached to a new level and become the leading brand among the similar products.
The product has solid,lightweight,thin,better strength,impact resistance,hanging strength,heat insulation,sound insulation,fireproof,waterproof,easy cutting,pet and rot resistant,increasing usable space. It can be arbitrary slot,without batch file,dry operation,enviroment protection,which achieve energy conservation and energy efficiency. At the same time,this reduces the total area to be occupied by the wall and to raise residential practical area,alleviates the structure load,improves the building aseismatic capacity and safety performance,and reduce total cost. This production technology and application is the reform of our country wall material,is a new breakthrough.

Product Advantages
1. Energy saving, Green, Environmental friendly
The raw materials do not include harmful substances.
Energy-saving effects of the building is greatly improved It is highly recommended by the government.
2. Durable
70+ years building life span.
3. Strong
Hard surface and no damage after impacting. The hanging strength of single spot is 100kg, can nail and affix tile.
4. Fireproof
Panels have a fire rating of 4 hours. Grade A of National standard.
5. Waterproof, Dampproof
No bead on wall panel surface in wet climate.
6. Sound insulation
The sound insulation capacity in the air is 35db-45db (according to National standard: GBJ121-88).
7. Quakeproof
More suitable for seismic & cyclone prone zones.
8. Unique tongue and groove
Specially designed tongue and groove arrangement ensures a perfect joint and makes construction faster.
9. Rapid installation
Being light in weight, handling & installation become very easy. One worker can do 20 sqm every day.
10. Dry working
It is very convenient, less building rubbish left after installation and clean up easily.
11. Excellent surface finish
The wallboard surface is level. You can plaster directly for inner decoration.It also can take all decorative treatment.



Product Application
widely used:
residential building,school,hospital,prefab house,office,
hotel,public construction,entertainment place.

Can replace construction materials as red bricks, clay solid bricks, air bricks, color-coated steel sandwich boards, gypsum blocks, wire spatial grid structure perlite boards, and perlite porous board.

Can widely be applied to interior and exterior wall materials of various high and low buildings such as banks, office buildings, hospitals, schools, hotels, malls, amusement halls, active barracks, old houses reconstruction, residences, and workshops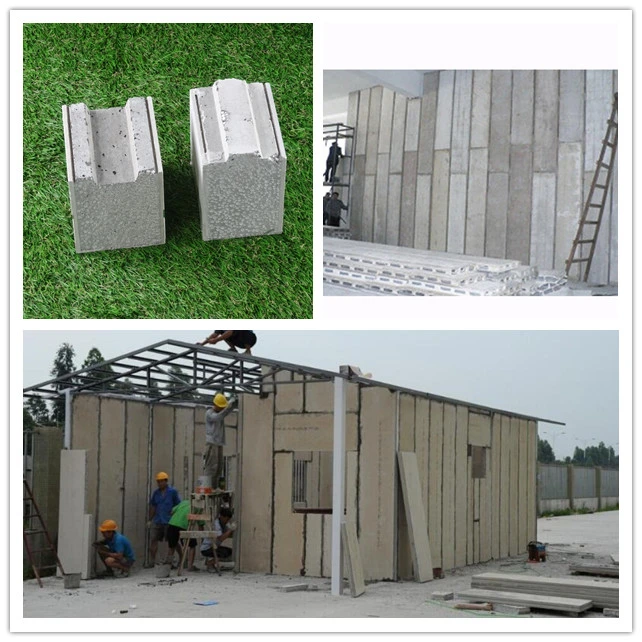 wall/exterior wall/interior wall/super high wall/abnormity wall,
roof,floor,pipe,fire well,equipment partiton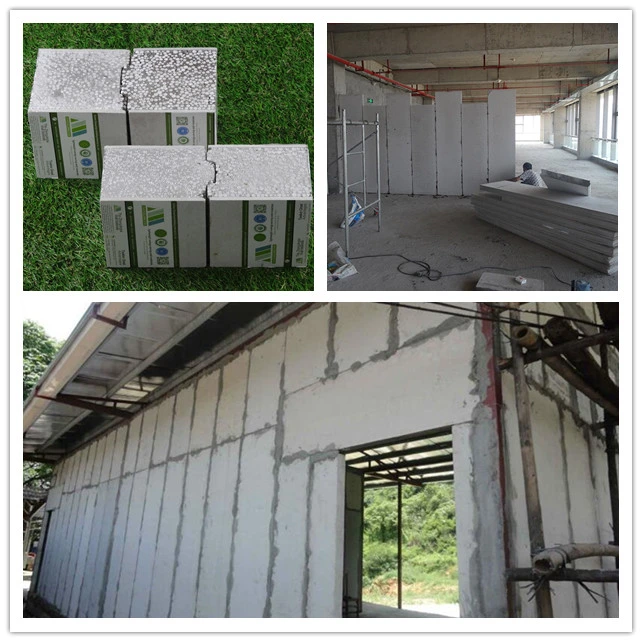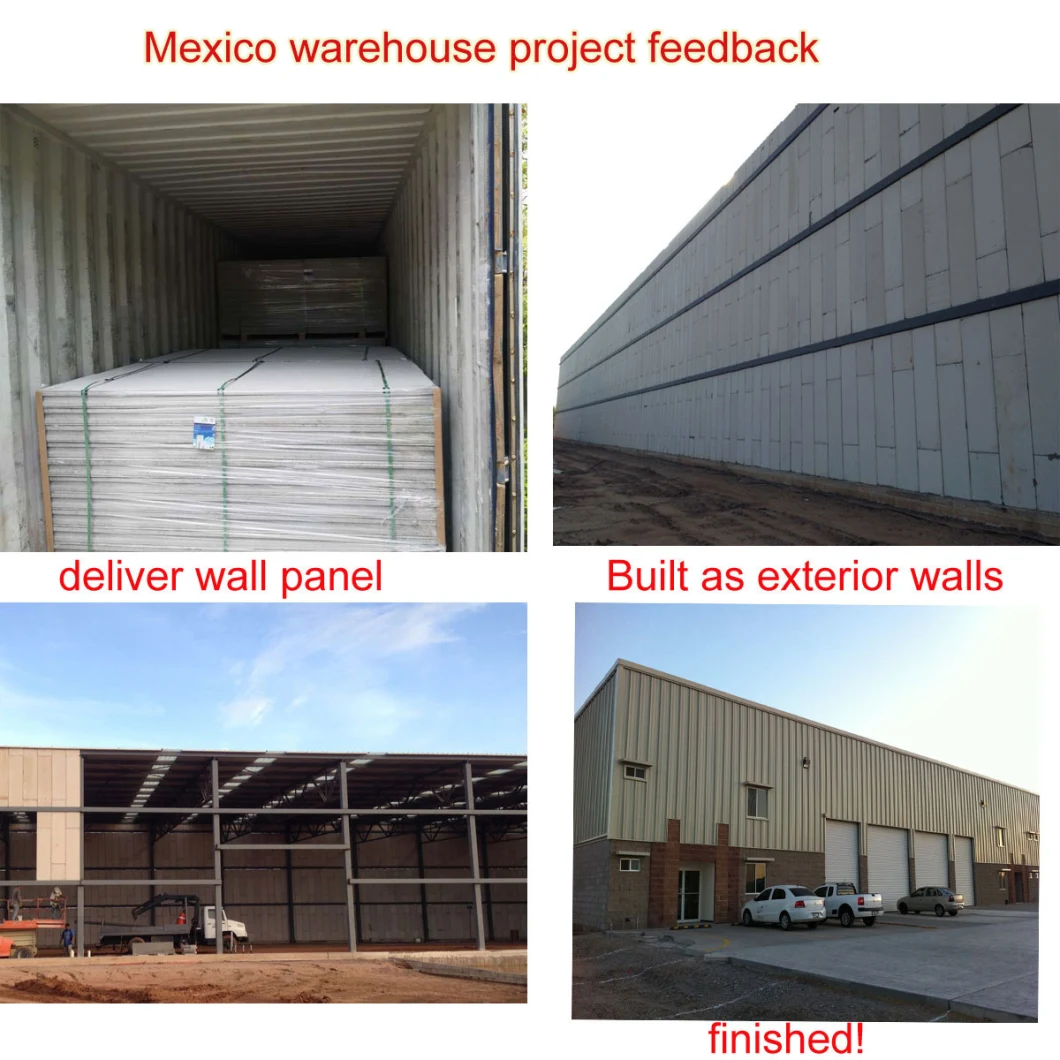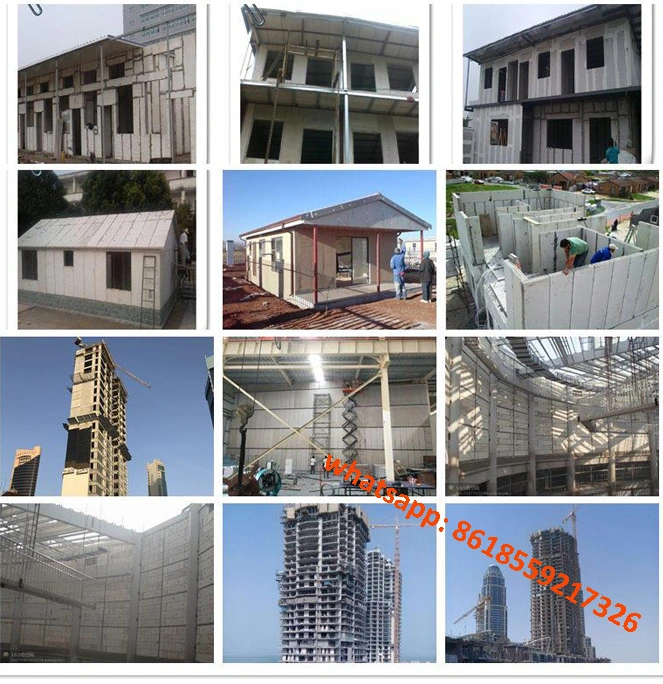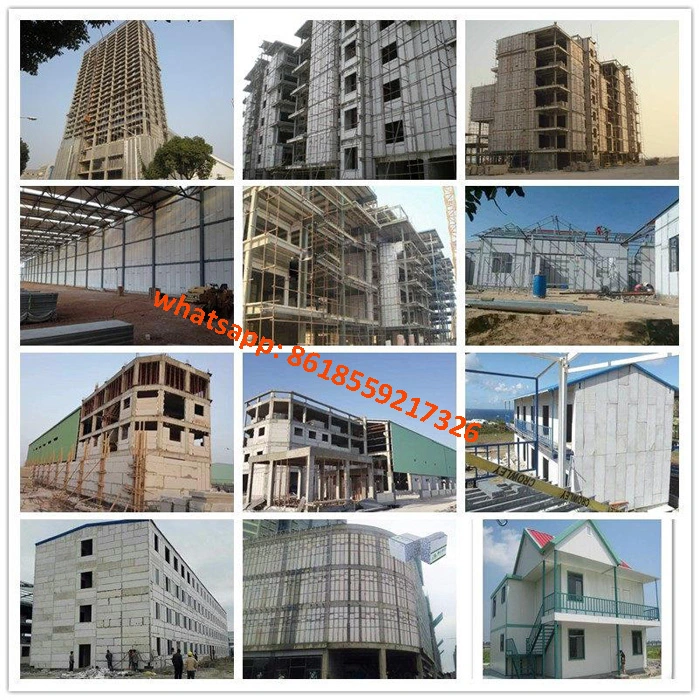 Technical Index
Item
Testing Indexes

Model (Thinkness/mm)

60mm

75mm

90mm

120mm

150mm

1

Anti-impact Capacity
[Standard sandbags/times]

≥5

≥5

≥5

≥5

≥5

2

Anti-bending Damage Load
[times over deadweight]

≥3.0

≥3.0

≥3.0

≥5.0

≥5.0

3

Compressive Stregth [Mpa]

≥3.5

≥3.5

≥3.5

≥3.5

≥3.5

4

Softening Coefficient

≥0.8

≥0.8

≥0.8

≥0.8

≥0.8

5

Surface Density [kg/]

≤70

≤70

≤90

≤110

≤110

6

Moisture Rate [%]

≤10

≤10

≤10

≤8

≤8

7

Drying Shrinkage Value [mm/m]

≤0.5

≤0.5

≤0.5

≤0.5

≤0.5

8

Hang Force [N]

≥1000

≥1000

≥1000

≥1000

≥1000

9

Sound Insulation Capacity In the Air[dB]

≥35

≥35

≥40

≥45

≥50

10

Fire Endurance [H]

≥1.5

≥1.5

≥2.5

≥3.0

≥4.5

11

Heat Transfer Coefficient [W/m2.k]

≤2.0

≤2.0

≤2.0

≤2.0

≤2.0

12

Inner Radiation Index

≤1

≤1

≤1

≤1

≤1

13

Outer Radiation Index

≤1

≤1

≤1

≤1

≤1
Loading Information
Items(mm)
Single(piece)
Load by 20'GP
Load by 40'GP
m³
Kg/pcs
Kg/m2
Qty(pcs)
m2
Tons
Qty(pcs)
m2
Tons

2270×610×60

0.08

47

34

313

433

15

525

727

26

2270×610×75

0.10

67

48

252

349

17

364

504

26

2270×610×90

0.12

77

56

207

287

16

322

446

26

2270×610×100

0.14

87

63

189

262

18

280

388

26

2270×610×120

0.17

98

71

162

224

16

252

349

26

2270×610×150

0.21

147

106

126

174

18

147

204

26

2440×610×60

0.09

60

40

240

357

15

420

625

26

2440×610×75

0.11

80

54

204

304

17

308

458

26

2440×610×90

0.13

90

60

168

250

16

336

500

26

2440×610×100

0.15

100

67

144

214

15

240

357

26

2440×610×120

0.18

110

74

108

161

12

216

321

26

2440×610×150

0.22

160

107

78

116

16

156

232

26
Packing and Loading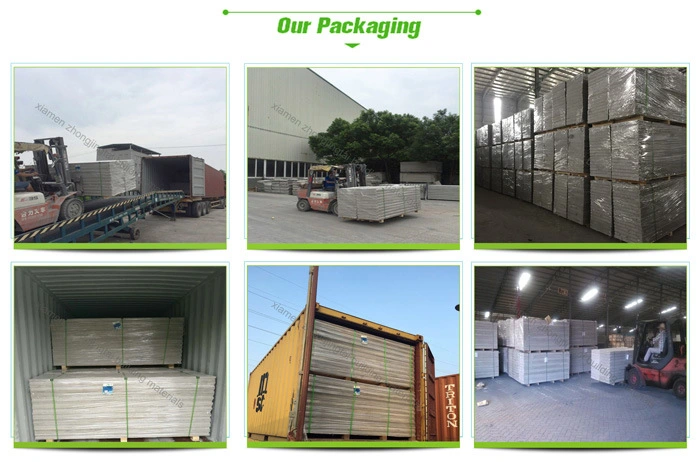 How to install
Set line:set line and carry panel in position.

Saw panel:use hand-hold eletrict saw to cut freely.

Sizing:sizing cement on tenon side of two panels then spread ploymer mortar on one tenon.

Installation:carry panel prepared to be installed panel.

Plant bar in wall and pillar:dry one hold in the original pillar or wall and fix panel by one steel bar.

Corret and fix:use one guiding ruler to check and level correction.

Plant bar in structure beam:drill one hole in structure beam and plant one reversed 7 type shaped steel bar to fix with wall panel.

Plant bar in floor:dirll one hole in floor and panlt 7 types shaped steel bar to fix with wall panel.

Plant bar between wall panel:plant one 200mm length steel bar in the angle or 45 degree to fix between two panels.

Install electric wire and switch:set lines on the place required to be settled with concealed wire and switch box.

Grout and fill slurry:fill and handle corrected wall panel with ploymer mortar.

Scrapping ash and sticking anti-crack cloth,coating:stick anti-crack cloth and brush coating after grouting slurry.

Company Honor
In the trend of low-carbon and energy-saving in domestic, ZJT is on a mission environmental protection, and actively promoting the development and popularization of green building materials. The composition of the materials of ZJT energy-saving wall panel strictly implements national GB6566-2001Building Materials Radionuclide Limited standard, which belong to the main of the radioactive building materials and a kind of decoration materials, 100% do not contain harmful substances in humans, and in high temperature combustion state, the release of excessive part also can be operated in an efficient range so it has no direct threat to human. At the same time, the construction of the product itself almost do not produce construction waste, in the demolition of buildings the product has the reuse rate of as high as 72%-93%, so these features make it surely become one of the most environmental protection administration of green environmental protection building materials.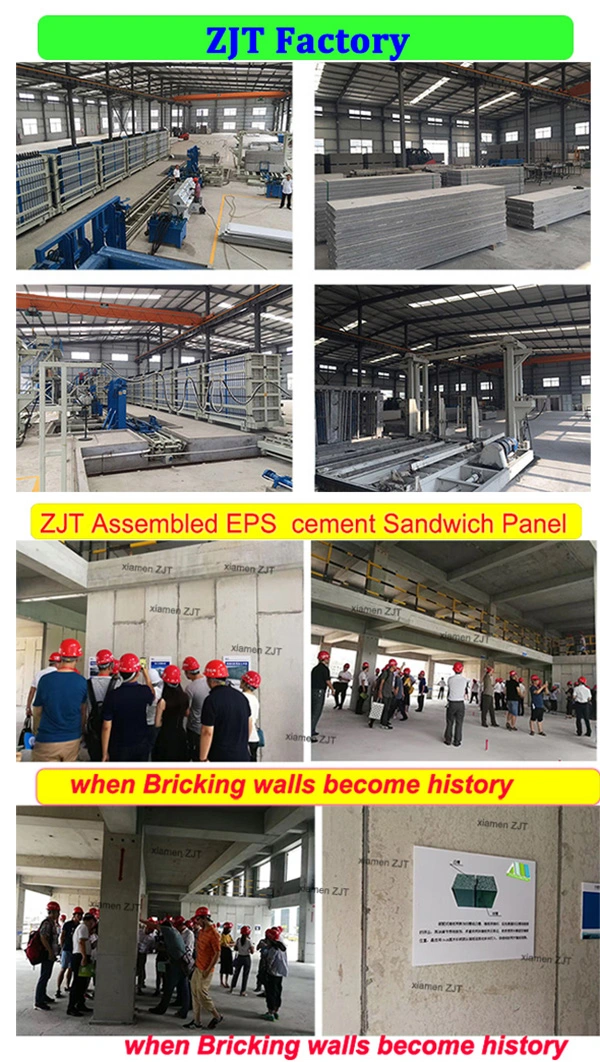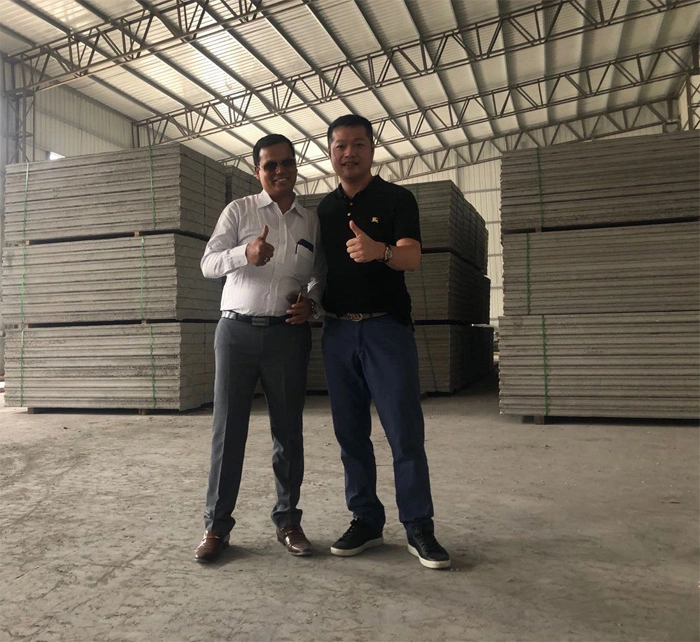 Rapid construction
Tongue and groove jointing system allows faster construction.
2 factory cured panels eliminates need for on-site curing.
3. lightweight panels allow easy handling and erection.
4easy workability no special tools required
Benefits for builders
1 Substantial discounts on builders risk insurance.
2. noncombustible
3. easy material selection-no need to cull or sort the pile and small punch list.
4. Saves job -site time with ease of panelization off-site
5.straight walls and square corners
6. Windows abd diirs ioeb abd close as they should
7. price stability-price spikers are extremely rare
Benefits for customers
1. High strength results in safer structures less maintenance and slower aging of structure.
2. fire safety
3. not Vulnerable to termites
4 Not Vulnerable to any type of fungi or organism including mold
5. Less probability of foundation problems-less weight
6.less probablity of damage in an earthquake
7. lighter structure with stronger connections results in less seismic force
8less probaility of damage in high winds
Contact Me!!!

RFQ
Q: How long can you delivery the goods?
A: Usual order can delivery in
5
-15 days upon receiving deposit payment
Urgent order can be speed production to meet client requirement
Large order can further discuss
Q: Can you offer a sample for testing?
A: Of course, we can offer a free small sample depend on your request
Q: Do you have any certificates or qualifications?
A: Yes. We have passed SGS&TUV& CE & ISO, and a full set of wall panel performance testing report, including Thermal Insulation, Soundproof, Strength testing, Fireproof (performance of our sandwich panel is more than 4 hours in the heat of 1000ºC.)
Q: What are the disadvantages of your sandwich panel?
A: Our panel is non-load bearing wall panel, so when building several floors of high-rise buildings, must combine with steel structure or concrete structure.
Q: When the time goes by. whether the panel might damage due to climate change and whether it can be harmed by insects?
A: Our panel will not be damaged due to the climate change, and also will not be harmed by insects. But for more than 2 stories or high-rise building, this panel needs to combine with steel structures or concrete structures. And lifespan is about 50~70 years.
Q: How would you guaranty the quality of your products and would like to know whether a warranty is available for the products we are to order?
A: The physical property of this panel will not be changed with the time goes by, generally speaking, it may be damaged during transport or improper use or man-made damage.
Q: What is your recommendation on usage (for what kind of construction each panel can be used in accordance with the thickness)?
A: Roof: 60mm panel
Interior Wall: 60mm 75mm, 90mm, 100mm
Exterior Wall: 100mm, 120mm,150mm etc
(Remarks: Just for your reference. Upon different client requirement, different practice.)
Q: What is the thickness of calcium silicate board independently?
A: Thickness of face board ( calcium silicon board or fiber cement board) is about 5mm.