0.6" Low Relaxation PC Strand Post Tension Concrete Strand for Bridge / Railway Sleeper
PT CABLE: POST-TENSIONED CONCRETE STEEL CABLE
Structure
: 7-wire pc strand,
Diameter
: 9.3mm, 9.53mm, 11.1mm, 12.5mm, 12.7mm, 12.9mm, 15.2mm, 15.7mm, 17.8mm, 18.9mm, 21.6mm, 21.8mm
Feature
: Low relaxation, stress-relieved, high tensile strength.
Raw Material
: High carbon steel wire rod
Steel Grade:
SWRH82B
Standards:
ASTM A416, AS4672, ABNT NBR 7483: 2008, BS5896-1980, EN10138-3, GB/T5224-2003, IS6006, JISG3536
Tensile Strength:
1860Mpa, 1960Mpa min
Relaxation on 1000 hours:
2.0% max
Elongation at breakage:
4.0% min
Export Packing:
Baling strip, inside plastic cover, outside PP packing cloth, wood pallet.
Package Weight:
2000-4000 kg/coil
Application:
Railway sleeper, subway track board; Post-tensioned concrete beams, girders, slabs of bridges, concrete floor, underground park, of industrial buildings, commercial buildings; Water projects, rock-coil anchoring, slope protection, coal mine; Long span stadiums, station.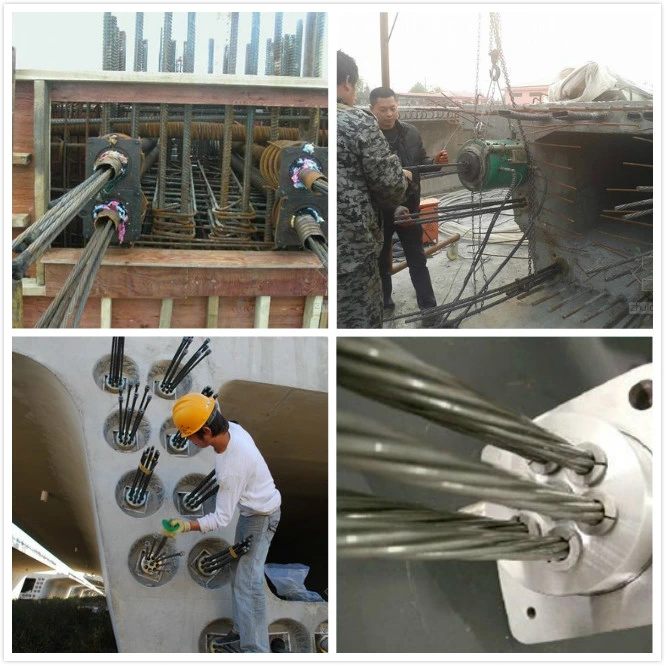 7-Wire Uncoated Steel Strand for Prestressed Concrete as per GB/T5224
Min.Breaking Strength

Nominal

Dia.

Dia.

Tolerance

Norminal

Steel

Area

Nominal Weight

Min.

Breaking Load

Min.Load

at 1%Extension

Min.Elongation

Lo≥610mm

0.7 G.U.T.S

1000hNorminal Relaxation

MPA

mm

mm

Mm2

Kg/Km

KN

KN

%

%

1860

9.50

+0.30,-0.15

54.8

432

102

86.6

≥3.5

≤2.5

11.10

74.2

580

138

117

12.70

+0.40,-0.20

98.7

775

184

156

15.20

140

1101

259

220

15.70

150

1178

279

251

17.80

191

1500

353

318

1960

12.70

+0.40,-0.20

98.7

775

193

174

≥3.5

≤2.5

15.20

140

1101

274

247