Gold Mining Equipment Mineral Processing Plant Gravity Separation Machinery 6s Shaking Table for Coltan Tantalite Monazite Ore Recovery



Description of shaking table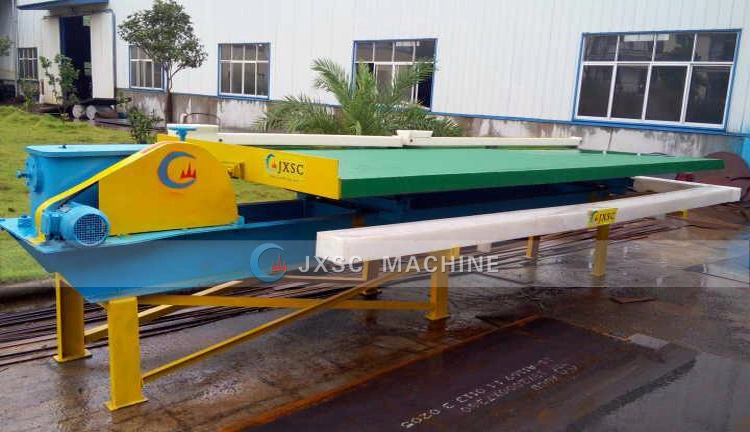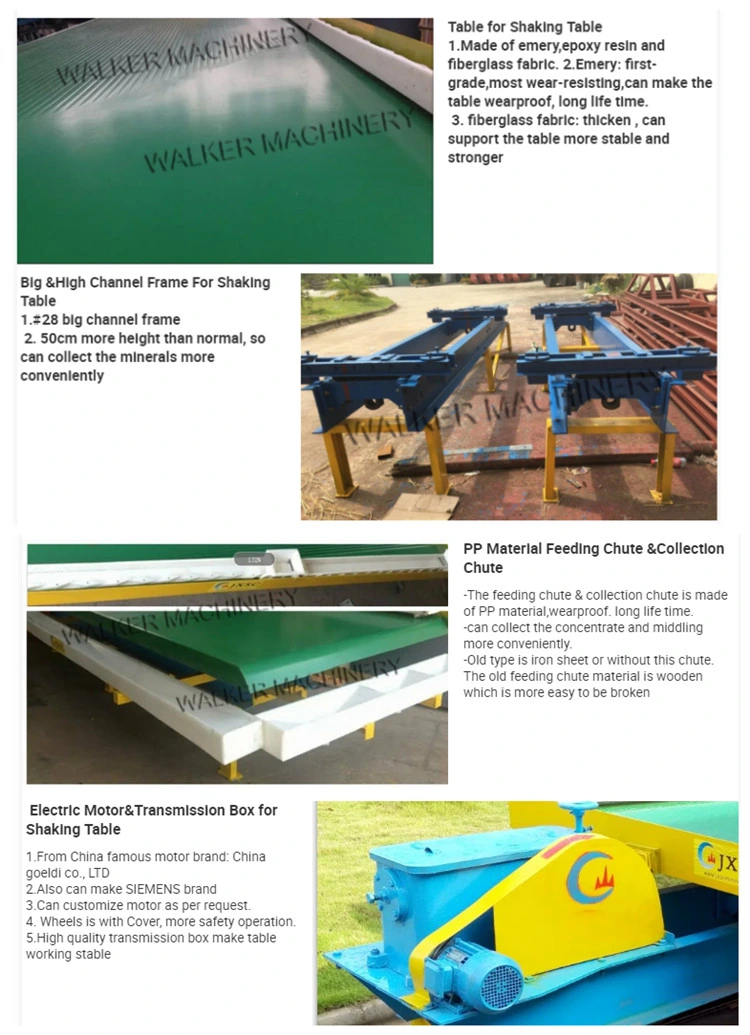 Application of JXSC shaking table in customers' mine site

Congo 2 TPH Hard Rock Gold Processing Plant
This Plant also can be used for Hard Rock Tin ore/ Coltan ore/ Tungsten Ore/ Chrome Ore
primary processing.Process flowchart as below: Jaw crusher-> belt conveyor-> hammer crusher-> shaking table
Main machines specifications :
1- Jaw crusher: 2 sets (one set for reserve), model PE150*250. with 1-3 TPH capacity, flywheel with cover, with diesel engine.
2.-Belt Conveyor: 1 set, 10 m long, 500 mm width.
3.-Hammer crusher: 1 set, model PC400*300, 1-3 TPH capacity, 0-2 mm output size. flywheel with cover, with diesel engine, with strong frame operation floor, wet process.
4.-Shaking table: 2 sets, model 6S big shaking table, with 1 TPH capacity, table size 4500*1850mm. New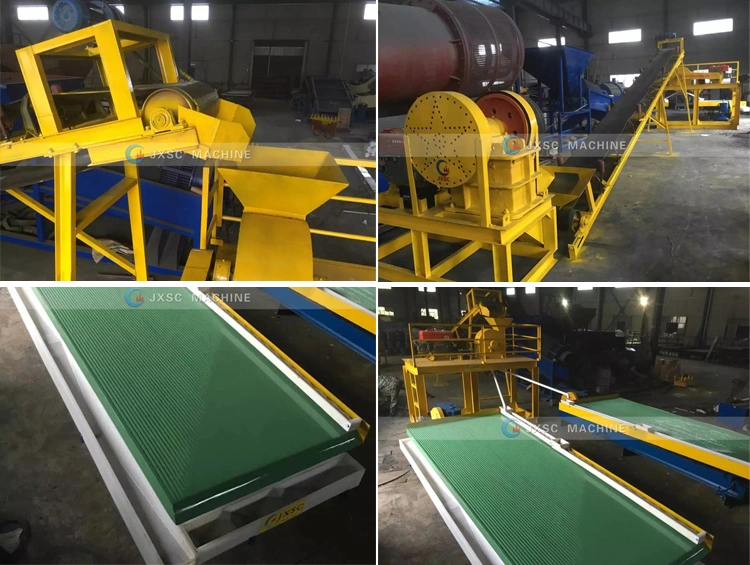 Placer Ore Processing Case in Ghana



Date: 2017Place: Russia Federation
Mineral: Chrome
Maximum Feeding Size: 0-2mm
Order quantities: 20sets
Other machines:hopper,trommel screen, mixing tank, sluice box, smelting furnace, etc.
100tph Coltan Process Plant in Uganda


Date: 2019Mine site: Uganda
Processing mineral: Coltan ore
Full set equipment for entire line:Trommel scrubber>Vibration screen>Jig machine>Shaking table
Customer's feedback: Coltan recovery reached 90%, customer was happy with our equipment.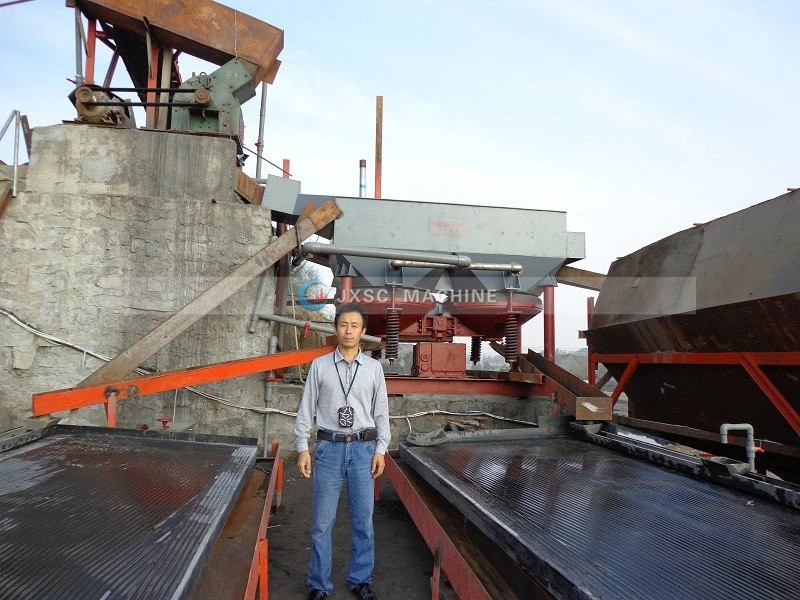 We have provided the shaking table for many customers in Sudan,Mali, Mozambique, Nigeria, Suriname, Ghana, South Africa,Uganda, Zambia, Tanzania, Angola, Canada, Austrialia, Chile, Peru,ect. For Alluvail gold washing plant, coltan ore mining plant,diamond washing plant, Iron ore washing plant,ect.


Shaking Table Date
Deck type
Unit
Coarse sand
Fine Sand
Slide Deck
Three different kinds of decks are available
Beneficiation Area
m2
7.6
7.6
7.6
4.08
1.95
0.5
Deck Size
Length
Size
mm
4450
4450
4450
3000
2100
1100
transmission end width
mm
1855
1855
1855
1320
1050
500
Concentrate end width
mm
1546
1546
1546
1100
850
430
Maximum Feeding Size
mm
2
0.5
0.15
0.1-2
0.074-2
0.074-2
Feeding Amount
t/d
30-60
10-20
15-25
0.4-1.5t/h
0.3-0.8t/h
0.05-0.2t/h
Feeding Density
%
25-30
20-25
15-25
10-30
Stroke
mm
16-22
11-16
8-16
6-30
12-28
9-17
Frequency
f
45-48
18-53
50-57
210-320
250-450
280-460
Water added
t/d
80-150
30-60
10-17
0.3-1.5t/h
0.2-1t/h
0.1-0.5t/h
The transverse slope of Deck
°
2°30-4°30
1° 30-3° 30
1° -2°
0 -10°
0 -8°
0 -10°
The longitudinal slope of Deck
°
1.4
0.92
------
------
------
------
Cross-section Shape of Deck
rectangular
sawtooth
triangle
Available rectangular, sawtooth, triangle
Motor Power
KW
1.1
1.1
1.1
1.1
1.1
1.1
6s shaking table packing and delivery

About US: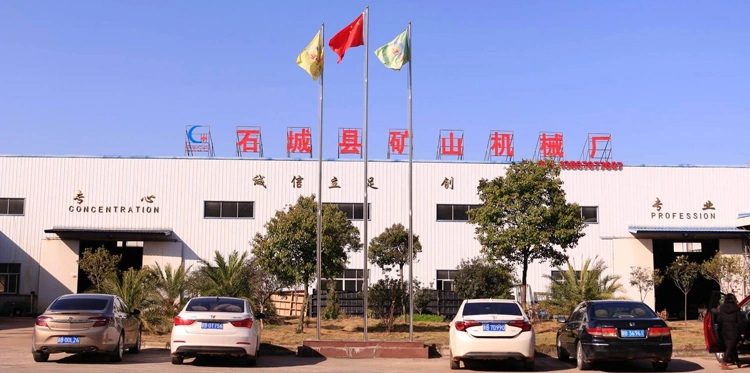 Jiangxi walker Machinery Co., Ltd, is a professional manufacturer of complete set mining equipment, a sub-company of JXSC mine machinery factory in Jiangxi province. professional at providing complete set processing equipment for Gold ore /Tin ore /Tungsten ore /Iron ore / Diamond/ Coltan ore / Silica sand / Zircon sand/ Black sand/Chrome ore, etc. As well as complete set small lab mining machines.
Our Core Advantages as below :
1.+30 years history FACTORY at mining machinery
2.Provide engineer team after sales service
3.Provide Complete set mineral processing plant
4.Provide Sample testing service in a factory lab for free
5.Provide professional Mining Solution Consulting




FAQ:
1. How is the quality of your products? (mining equipment/machine)
Answer: Our products are manufactured strictly according to national and international standard, and we will take a test on every grinder before delivery.

2.Guaranteed:
Answer: All of our products are guaranteed for one year. If products quality is not consistent with the description as we described or the promise before you place an order, we promise a 100% refund.

3.How about the price?
Answer: For the complete same machine, we can promise our quality is the best when the price same as other competitors and our price can be lowest when the quality at standard level.

4.Service and Payment Terms?
Answer: We can accept T/T and L/C; 30% deposit, 70% balance before delivery, which is international trade practice; Finished product pictures will provide to customers before delivery.

If you are interested in our products, please don't hesitate to contact us. You can tell me the following questions, so that we can send you an accurate quotation soon, including extra discounts!
1. Which machine do you need? like gold washing machine, spiral chute, vibrating screen, Jig separator, Shaking table, etc.
2. What is your raw material plan to process? like gold ore, diamond ore, tantalite ore or iron ore, etc.
3. The capacity you need? Like 100 tones per hour or 2000 tones per day.
4. Your contact information? Both Email and phone number are essential, we can contact you easier.