Lathe Machine Cutting Tools WNMG080408-UC Cnc Turning Inserts For Cast Iron

Description:

WNMG080408-UC it's one type of general turning Inserts, it's very popular in our customers all over the world.
Have different choices for dimention, chipbreakers and grade, normally it's 08 size, with different corner radius.

Suitable to the holders of DWLNR/L PWLNR/L MWLNR/L PWLNR/L.

It's cemented carbide insert of black CVD coating usually, we can also provide other different coatings for example yellow / purple / grey, or uncoated products if customer need.

This type have samples in stock commonly.

Applications:

For K05-K25 grade, KT3202 --- Gerneal grade for cast iron turning and milling.
New compound CVD coating grade,(TiN+thick Al 2 O 3 +thick TiCN) combines the compound coating and alloy matrix, outstanding wear resistence and intensity of inserts, suitable for cast iron during high speed, high feed process conditions,universal application not only for grey cast iron but also machining of nodular cast iron.



Our grade:
| | | |
| --- | --- | --- |
| KT3200 | K15-K25 | Uncoated. |
| KT3201 | K10-K25 | Yellow color. CVD coating (TiCN + thich Al2O3 + TiN). |
| KT3202 | K10-K25 | Black color. CVD coating (medium Al2O3 + thickTiCN). |
| KT3203 | K10-K25 | Bi-color. CVD coating (TiN+TiCN+Al2O3). |

Specifications:

TYPE
Dimensions
L
θI.C
S
θD
r
WNMG060404-UC
6.5
9.525
4.76
3.81
0.4
WNMG060408-UC
6.5
9.525
4.76
3.81
0.8
WNMG080404-UC
8.7
12.7
4.76
5.16
0.4

WNMG080408-UC

8.7

12.7

4.76

5.16

0.8

WNMG080412-UC
8.7
12.7
4.76
5.16
1.2

Feature Advantage:

1. WNMG it's a Kind of General Turning Inserts, kelite have many years experience of manufacturing these type of inserts.

2. We have regular orders from our customers all over the world, already very stable quality.

3. Have different sizes, coating color have yellow, black, purple, grey, broze and different chipbreakers for choice.

4. Usally we have samples in stock, we produce very large quantity every monthly, in this way, price will be the most competitive for our customers.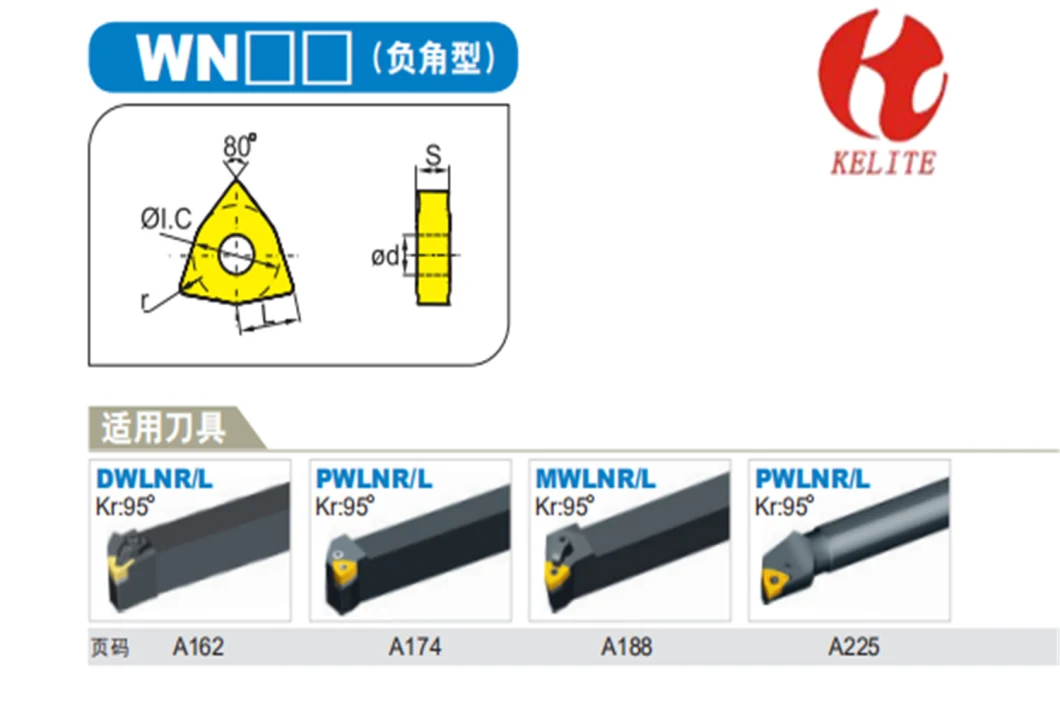 | | |
| --- | --- |
| Quick Response | Inquiry will be replied within 8 hours. |
| High Quality | Well-trained workers and more than 15 years' experience. |
| Competitive Price | Directly from factory to save your cost. |
| Short Lead Time | Being efficient: 3 days for samples and 10-35 working days for bulk orders. |
| Flexibility | Small orders are acceptable for quick delivery and to help you reduce stock cost. |
| OEM | Customerized production according to your drawings, samples or designs |