Detailed Product Description
Rated productivity:15tph
Mobile asphalt batching plant using twin-horizontal shafts force mixer saves stirring time and makes bitumen wrapping in a high degree. It blade, vane and mixing arms are made of special wear-resisting material and they can work longer. Material-added gate with double air cylinder is in turning form which saves time and increase the sealing. It consists of dryer drum, burner, central venting, forced mixer and finished silo.
1) Rated productivity: 15tph
2) Suitable material: bitumen, aggregate
3) Feeder hopper capacity: 750kg
4) Main power: oil burner 48kW, coal burner 69kW
5) Product temperature: 120~165°C, adjustable
6) Burner: oil, coal and oil
7) Control system: PLC, auto-control and manually, electronic cabin and control panel,
touch screen, control room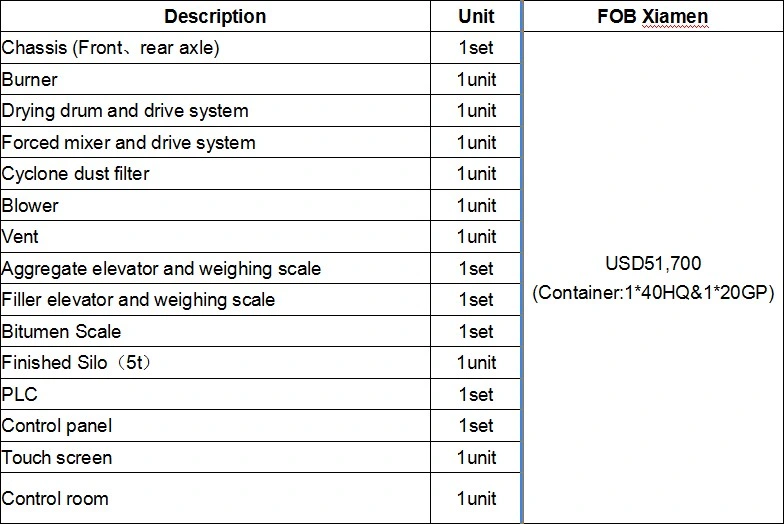 Main Fetures:
* Integrated design of drying drum and horizontal twin-shaft mixer,more even mixing and better asphalt;
* Accurate weighing, and stable quality;
* Simple structure, easy operation, drying while drum rotate in counter-clockwise direction (from burner), discharging while drum rotates in clockwise direction (from burner), and the wind are swirled in the center of the drum;
* PLC control,touch screen, auto/manual switchable
* Towing chassis for easy transport and installation; Burner is available for coal and oil, at customer's option.
Main technical data for batch mixing type
Type
QLB-10
QLB-15
QLB-20
QLB-30
QLB-40
QLB-60
QLB-80
Capacity
10t/h
15t/h
20t/h
30t/h
40t/h
60t/h
80t/h
Power
oil
41.5kw
54kw
63.5kw
104.5kw
125kw
157.5kw
200kw
Coal
57.5kw
75kw
86.5kw
127.5kw
169kw
205kw
276kw
Product Temperature
120~180ºC,Adjustable
Fuel consumption
Oil:5~7.5kg/t Coal:13~15kg/t
Optional
Coal miller, Wet filter, Control room, Bitumen heating tank
operating principle
First, put aggregate in elevator bucket; then elevator bucket will transport it to drying drum, after drying, it will transport to another mixing drum, then mixing bitumen, mineral powder and some other material together. After finished, it will out from discharge door. There is a temporary storage of asphalt mixture. About this, after you purchase the plant from us, the operation manual will ship to you along with the plant. It has details information to explain how to use it.